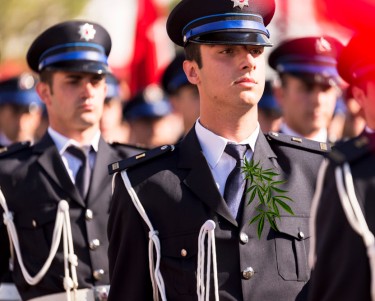 Although in America today, cannabis is already legal in many states in various capacities, some with both medical and recreational allowances, the 'drug' remains illegal at the federal level which gives rise to contradictions in state and federal laws, and also gives rise to problems for law enforcement on the federal stage.
There is a serious national deficit of authorized law enforcement officers. It is crucial, and not a budget issue, in Portland, Oregon. The Police Bureau's 2022 budget ($249 million) is sizable enough to employ recruits at $65,000, including a $5,000 starting bonus, so there is actually plenty of money to go around. Simply put, there aren't enough takers.
Although there is a difference in the number of police between states, there is a clear trend that law enforcement organizations are having trouble filling their ranks. According to Statista research from 2021, the nation's 660,288 full-time police officers have decreased by around 50,000 since 2013. "Deep and intricate," according to the National Police Support Fund, describes the recruiting shortfall.
The lack of police officers in Portland is not a result of "defunding the police"; rather, the budget for the Police Bureau is stable and will reach $249 million in 2022. The issue is that despite a better economy, the bureau has long battled to fill officer positions, much like police forces across the nation. 2020 saw a hiring freeze and a wave of early retirements.
COULD TESTING FOR DRUGS BE TO BLAME
An applicant who wants to work for Portland's Police Bureau (PPB) must have abstained from cannabis use for a whole year before having applied to the department. The PPB website indicates that even if marijuana has been legalized in Oregon and certain other states, it is still unlawful to possess or use it.
HOW CAN THE SITUATION BE RESCUED? PORLANDERS PROFFER SOLUTIONS.
In an opinion piece published in Portland's Willamette Week, it was proposed that police officers should be allowed to do what other Oregonians have been permitted to do, legally, for years: take the day off work, relax on the couch, and smoke a joint, an As the state wouldn't be the first state to do that in the union, after all.
Police officers in New Jersey are not subject to any penalties for using marijuana while off duty.
Police officers in New York City are legally prohibited from drinking, even when they are not on duty. Although prior marijuana use does not automatically disqualify applicants for police positions.
The same is true for New Orleans, where the one-year review of marijuana use by recruits was eliminated in September. By the way, the situation in NOLA is dramatic: for the very first time in decades, the police force has fewer than 1,000 officers as a result of the pandemic.
THE OPINION OF THE POLICE CHIEFS ON THE MATTER
The International Association of Chiefs of Police (IACP) is raising concern because drug tests and prohibitions on cannabis use are reducing the pool of potential recruits and because agencies are having trouble replacing retiring police officers.
According to a recent study by the IACP, "strong attempts to hire, recruit, and retain personnel become increasingly crucial at a time when the value of officer psychological health is more widely recognized." Without reducing the standards that their colleagues and communities have grown to expect of officers, law enforcement organizations must consciously modify their hiring and recruitment procedures.
According to the IACP research, recruitment innovations include easing candidate disqualifiers. This is because younger generations have a different culture than older ones, and some agencies have realized that this has made it more difficult to fill open positions.
Some organizations even choose not to discuss a candidate's prior drug usage with them at all, while other organizations no longer automatically disqualify candidates for particular instances of drug use.
On this matter, the police chiefs and residents of Portland may actually agree.
CANNABIS IN PORTLAND
In the month of July 2015, the state of Oregon legalized the recreational use and possession of cannabis for individuals over the age of 21. The production, sale, and consumption of cannabis remain illegal on a federal level even though Measure 91 declared possession and use of the drug lawful in Oregon.
Although it is legal to use cannabis in Oregon, there are still some restrictions that must be followed. To start, in Oregon, to o buy and use cannabis, you must be at least twenty-one years old. The use of cannabis in public is also prohibited. This prohibits smoking marijuana in public places, and it is also technically improper to light up a joint carelessly while crossing the street. Additionally, smoking of any kind, including cannabis or tobacco, is prohibited in many hotels and apartment complexes. Don't light up unless you're staying in a vacation rental, hostel, hotel room, or other place that is clearly advertised as 420-friendly.
Portland, Oregon has always had a little bit of a wild side and has a reputation for being a location where free spirits may go and stay. Keep Portland Weird is the slogan used by the city for a reason. Recreational marijuana use in Portland, Oregon, fits in well with this culture.
The supervision of cannabis regulations in Portland, Oregon, is done in a setting that is generally considered to be progressive. The city's Office of Community and Civic Life established a Marijuana Policy Oversight Team to offer "various stakeholder viewpoints on cannabis-related public policies. It includes people with extensive knowledge of the problems affecting and being influenced by the cannabis sector, as well as representatives from the cannabis industry. The Body's mission is to explore and create regulations that encourage fair access and outcomes for the cannabis sector, marijuana consumers, as well as all City of Portland residents.
BOTTOM LINE
The rule that makes citizens or potential police recruits have to stay off consuming cannabis for an entire year before they can apply to be part of the force has been deemed as an absurd rule by the citizens, and some police members alike, as it makes them give up their normal citizen rights to use cannabis. The Cannabis Oversight Team of Portland could be the one to provide new regulations to affect this rule.
POLICE AND LEGAL CANNABIS, READ ON…