You may have heard of Viagra or its generic name, Sildenafil citrate if you're a man with erectile dysfunction (ED). ED is the inability to obtain or maintain an erection and/or a decline in sexual desire. Viagra, one of the most often prescribed ED drugs on the market, improves a man's capacity to get or sustain an erection for sexual activity by increasing blood flow to the penis. If ED is caused by physiological or physical issues, such as diabetes, high blood pressure, obesity, or high cholesterol, Viagra can be beneficial.
However, ED can also be caused by mental health conditions such as depression and anxiety, as well as stress or lifestyle choices such as smoking and bad sleep patterns, or some medications can exacerbate it. Speaking with a doctor before using Viagra for ED is crucial to ensure it's the right course of action.
For men living in states where recreational cannabis is legal, many may be wondering if it is safe to indulge in the recreational substance while taking Viagra. This article explores the anecdotal and scientific evidence surrounding the interaction between Viagra and cannabis and its effects on erectile dysfunction.
Cannabis and Viagra  
Cannabis can benefit men with poor libidos and those who experience premature ejaculation. Cannabis also helps to boost male sexual performance in general, including achieving and keeping an erection. In light of this, cannabis has been shown to have direct effects on libido, boosting arousal levels by delivering neurotransmitters to the brain and interacting with the endocannabinoid system (ECS), which regulates pleasure and relaxation and eventually enhances both.
According to Jordan Tishler, MD, the CEO/CMO at inhaleMD, a patient-focused clinical practice, and president of the Association of Cannabinoid Specialists, cannabis and PDE-5 inhibitors, such as Viagra and Cialis, that relax muscles and increase blood flow to the penis, are generally safe to use together. Tishler affirmed that there is some evidence that THC may interact with Cialis (tadalafil) particularly, although he has never observed this as an issue in the real world.
Tishler continues by explaining that this indicates that some interactions are hypothetical but don't appear to take place in reality (or at least not evident). He added that he has never encountered a Cialis side effect linked to cannabis. That is possibly true, but it doesn't seem to happen.
However, cannabis is quite dose-dependent, notes Tishler. A bit can be beneficial, but too much can have the opposite effect and stop sexual enjoyment. An excessive intake of cannabis can result in loss of erection in men experiencing erectile dysfunction (ED). All things considered, cannabis can be pretty beneficial, but it is best used under a medical practitioner's supervision to avoid any side effects.
Cannabis and Viagra may also complement each other. It is important to note that CYP3A4, a liver enzyme that is primarily responsible for the metabolism of Viagra, can be blocked by CBD. This indicates that the effects of sildenafil (Viagra) may be enhanced when taken combined, raising the possibility of adverse effects such as headaches and vertigo. More study is required because there hasn't been much explicitly done on inhibitors or men's sexual health and wellness.
Cannabis, Erectile Dysfunction, and Other Underlying Issues
Sexual stimulation encompasses the brain, emotions, nerves, hormones, muscles, and blood vessels. Hence, ED can be caused by issues with any of these components. Stress is another possible trigger. It is frequently a combination of psychological and physical problems. In situations like these, cannabis can be beneficial.
The endocannabinoid system regulates the male erectile function and sexual behavior through binding receptors in the hypothalamus paraventricular nucleus. This may also explain why cannabis has improved sexual function in patients suffering from diseases or anxiety disorder symptoms, depression, and pain.
Cannabis has been shown in animal and human research to have a peripheral effect on ED, specifically on the corpus cavernosum. This erectile tissue forms the bulk of the penis and contains cannabinoid receptors. However, not every piece of research is in agreement. Some research has linked cannabis consumption to orgasm difficulties in men. In fact, in one poll of Australian men, both premature ejaculation and delayed ejaculation are related to cannabis usage.
It is unclear whether this is connected to cannabis or whether regular cigarette use in combination with cannabis use confounds this conclusion. However, most researchers agree that the correct amount of cannabis may transform an ordinary event into a remarkable one, including a sexual experience.
A 2021 review article on cannabis and male reproductive health claims that certain research has revealed that 70-85% of marijuana consumers report higher sexual pleasure and satisfaction, 25-40% longer sexual duration, and 55-70% heightened orgasmic experience. THC can slow down time and increase sensations of sexual pleasure, while CBD can relieve stress, anxiety, and even depression by stimulating serotonin receptors within the brain.
According to some research, testosterone levels may even increase with cannabis use. However, other research has revealed that THC has the reverse effect on testosterone and that it also somewhat dampens passion (dosage is vital, less is more). However, there has to be more investigation, including human trials. So can marijuana take the place of Viagra? For most guys, it probably can't, but the combination can guarantee an orgasm, arousal, and general contentment.
Conclusion
In one case, a combination of inhaled marijuana and Viagra triggered a heart attack. Nonetheless, this case hasn't been replicated on a large scale. A relationship between erectile dysfunction and cannabis use has also been found in several research. Unfortunately, data are varied, so it's impossible to predict whether cannabis would diminish Viagra's efficacy and the overall impact on human health.
Viagra and cannabis work in various ways. It is possible that cannabis could help alleviate anxiety while also improving sexual desire, affect, and function. As things stand, very little is known about how the two medications interact with one another and their overall impact on human health. Hence, we advise you to stay on the safer side and not combine both substances until a factual and acceptable conclusion is reached.
CANNABIS AND SEX, READ ON…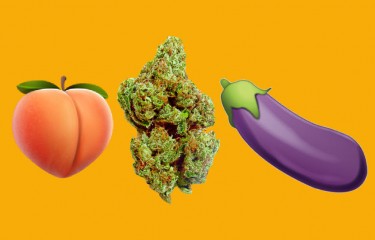 THE CANNABIS SEX STUDY, WHAT WE LEARNED FOR VIAGRA USERS!