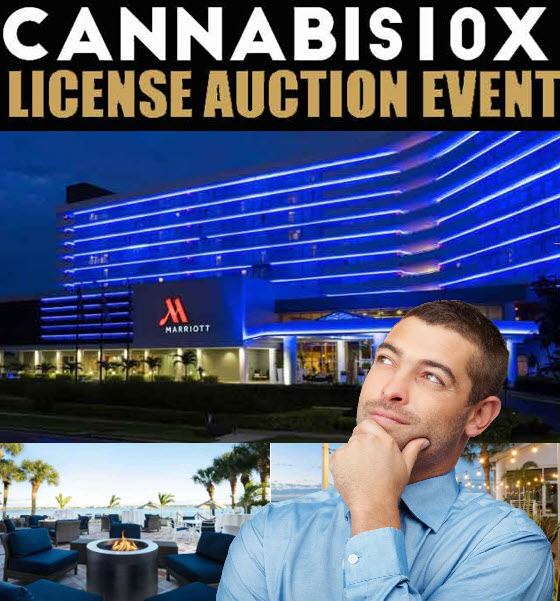 Cannabis License Auction, FL. Feb. 23-24 – The Cannabis10x License Auction-Style Event Features License Holders, Buyers and Investors Jockeying for Positions in Coveted States Such as FL, NY and More.
[mention Cannabis.net when you sign up for a free access to the Cannabis10x Network membership]
Cannabis10x is hosting a live and virtual Cannabis License Auction-Style Event February 23-24 in beautiful Sand Key, FL.  In attendance will be a varied group, ranging from multi-state operators seeking first-in, strategic locations in limited license states (Florida, New York) to investors and single-state operators seeking Joint Ventures for the purposes of crossing state lines. From the most established states to those that recently opened that are limiting licensing, these attendees are a very effective group.  License valuations range from $45 million to $2,500. 
The following is an interview with co-founders of Cannabis10x, Jason Tropf and Holly Ford. 
Cannabis.net: 
Folks I am doing this personally today because I think you're gonna' love what you're about to hear!  I am talking today to the team who founded Cannabis Franchising! They then made a splash with their Cannabis Shark Tanks with great stars like Cheech Marin, Bruce Linton, and yours truly! (Laughter) and now they're at it again doing something no one has ever done before… A Cannabis License Auction!  Holly Ford and Jason Tropf welcome!
Jason Tropf (Cannabis10X)
Hi Curt. Nice to see you again… Happy to be here!
Cannabis.net:
So, what the heck is a Cannabis License Auction!
Holly Ford (Cannabis10X)
It is definitely going to be intriguing! Sellers and bidders come together in person (or virtually) to buy and sell.  Sellers set a minimum bid and bidders deposit 10% until the state approves the transfer…. There will be a LOT of networking and quite a few strategic partnerships formed.
Cannabis.net:
How does this work… can anyone buy a cannabis license in the auction?
Jason Tropf (Cannabis10x): 
Yes, they need to be 21…. But I'd like to emphasize to buyers: 'Do your due diligence to make sure you meet the regulation requirements for the state in which you intend to buy'. All sales are contingent on state approval.  Some states require state residency, some favor social equity only in the early phases, while others welcome everyone.  (Bidders can sign up here: Register to Bid.)
Cannabis.net: 
Who can sell a cannabis license in the auction? 
Holly Ford (Cannabis10x): 
Any owner of a cannabis license can sell their license in the auction. They just need to register as a seller. (The direct owner of the license must register as the seller on the website which can be done here: Register to Sell.)  
Some sellers have requested we work with them outside of the auction. Cannabis10X can take those sellers on as clients.  Clients can list as many licenses as they want and get the status as a Featured Seller  as well.
Cannabis.net:
That's great! What does a Featured Seller get?  Anything special?
Holly Ford (Cannabis10X)
Featured Sellers can list an unlimited number of licenses. Most importantly, they have 5 minutes to directly pitch their license on the auction podium (or have the hosts pitch their license to the audience for them.) They also get increased exposure including on the main auction website, a featured listing on all auction itineraries, a listing on the front page of all of the bidder packages, they are listed in all press releases and marketing material… The increased exposure typically generates more investor introductions.  
Cannabis.net:
OK, best guesses here… how much do you think buyers will pay for a license?
Holly Ford (Cannabis10X)
Historically licenses have sold for as low as $2,500 dollars and up to $70 million! Prices will vary by location and license type and valuations have a large degree of variance. Regardless, sellers have autonomy here. They set their own minimum bids, but all transactions are subject to seller approval so they may approve bids as low as they feel necessary to close the sale. A refundable 10% deposit is held in escrow on the day the bid is accepted. All of the Terms are listed on the registration page.
Cannabis.net:
Sounds perfect! Tell me more about the valuations.
Jason Tropf (Cannabis10X)
Some state regulations are much different than others which has a great deal to do with valuations. If competition is throttled by regulations, revenue is much greater per operator, making license values much greater.  For example, certain states offer retail licenses that allow for a single retail location per license and that license type might be valued between $2,500 – $50k. In other states, a single license includes and allows for vertical integration: cultivation, manufacturing, and an unlimited number of retail locations under a single license. These types of licenses are valued in the range of multiple $10's of millions.
Cannabis.net:
A lot of different licenses out there! What kind of license can people buy?
Jason Tropf (Cannabis10X)
License holders from across the entire supply chain are selling licenses.  This includes cultivation, processing/manufacturing, retail and delivery/distribution. In some instances, the entire vertically integrated operation is included under one license. In states such as Florida, for example, unlimited retail outlets are allowed under a single license.  Again, make sure you are educated in the states licensing requirements prior to bidding.
Cannabis.net:
Do you offer any help for due diligence prior to the auction?
Jason Tropf (Cannabis10X)
Participants can contact Cannabis10X or our auction's prime sponsor; cannabis attorney and political candidate, Michael Minardi.
Cannabis.net: 
What states can people buy licenses? 
Holly Ford (Cannabis10x): 
Participants can buy licenses in any legal state in the US that allows licensed cannabis businesses to operate, subject to state approval of the transfer of license.  This includes some of the more coveted states like Florida and New York as well as established markets like Colorado and Oregon.  Specific licenses are frequently being updated and can be found on the event site. We expect more than 100 licenses. (Cannabis10x.com License Auction event page )    
Cannabis.net:
What happens if the cannabis license does not sell at the auction? 
Jason Tropf (Cannabis10X) 
Sellers have the option to become clients of Cannabis10X where we will continue to work with the license owner through our Mergers & Acquisitions division to locate a buyer or strategic partner.
Cannabis.net: 
OK, now for the fun stuff… who is coming besides yours truly? 
Holly Ford (Cannabis10X)
License owners, investors, acquisition teams, franchisors, multi-state operators, joint venture partners and single operators both domestically and internationally.  We will be featuring international licenses as well which will attract a more global crowd.
Cannabis.net: 
What kind of investors and acquisition teams are you referring to?
Jason Tropf: 
Already in the 10X Network are a wide variety of investors and acquisition teams. This includes the Cannabis10x family of franchise brands (Cannabis10x Family of Franchise Brands). Investors range from wealthy individual accredited investors to family offices and franchise portfolio builders. Fund managers that manage funds between $10 million – $100 million and franchise portfolio owners that own anywhere from 200 – 2,000 franchise units. Also included are main street investors that expect to spend between $250k – $2 million as well as smaller investors who expect to spend $2,500 – $50,000.  
Cannabis.net: 
So, is this an all-business and networking event? Any fun planned for live attendees?    
Holly Ford: 
Yes! That's why we added the live venue in Sand Key, Florida! Thursday evening will be drinks and swag bags, meet and greet, networking and a great speaker.  Friday morning networking again followed by the auction.  Many will be staying the entire weekend to continue forging strategic partnerships.
Cannabis.net: 
How can a business get involved or gain exposure to your audience? 
Jason Tropf: 
Sponsor!  Our legacy sponsor is taken, but we still have room for strong businesses on the bill. Sponsors even have an option that will allow them to speak to the entire live and virtual audience! Besides the obvious banners and promotional materials, sponsors will gain recognition on the Cannabis10x.com website for up to 12 months after the event and get free tickets to the main event. And much more! (Sponsors can learn more here: Sponsor Program)
Brief Description:
Cannabis10x.com:

Cannabis10x License Auction

Marriott Hotel, Sand Key, FL

Date: Feb 23-24, 2023

12:00pm EST

Virtual & Live Attendance

Video:  https://youtu.be/gLFJrIxMGp0

More Information: https://members.cannabis10x.com/auction-event1668458277085
• ALL States

• Expecting 100+ Licenses

• Live & Virtual

•Joint Ventures

• Outright Sales

• Limited License States

• FL, NY, MI, CT, MO & More…
Brief Description: Join the Private 10X Network of accredited investors, vertically integrated multi-state operators and license holders in all legal states for a unique, auction-style event. Franchisors | Acquisition Teams | Investors | MSO's | JV Partners | Wealthy Individuals